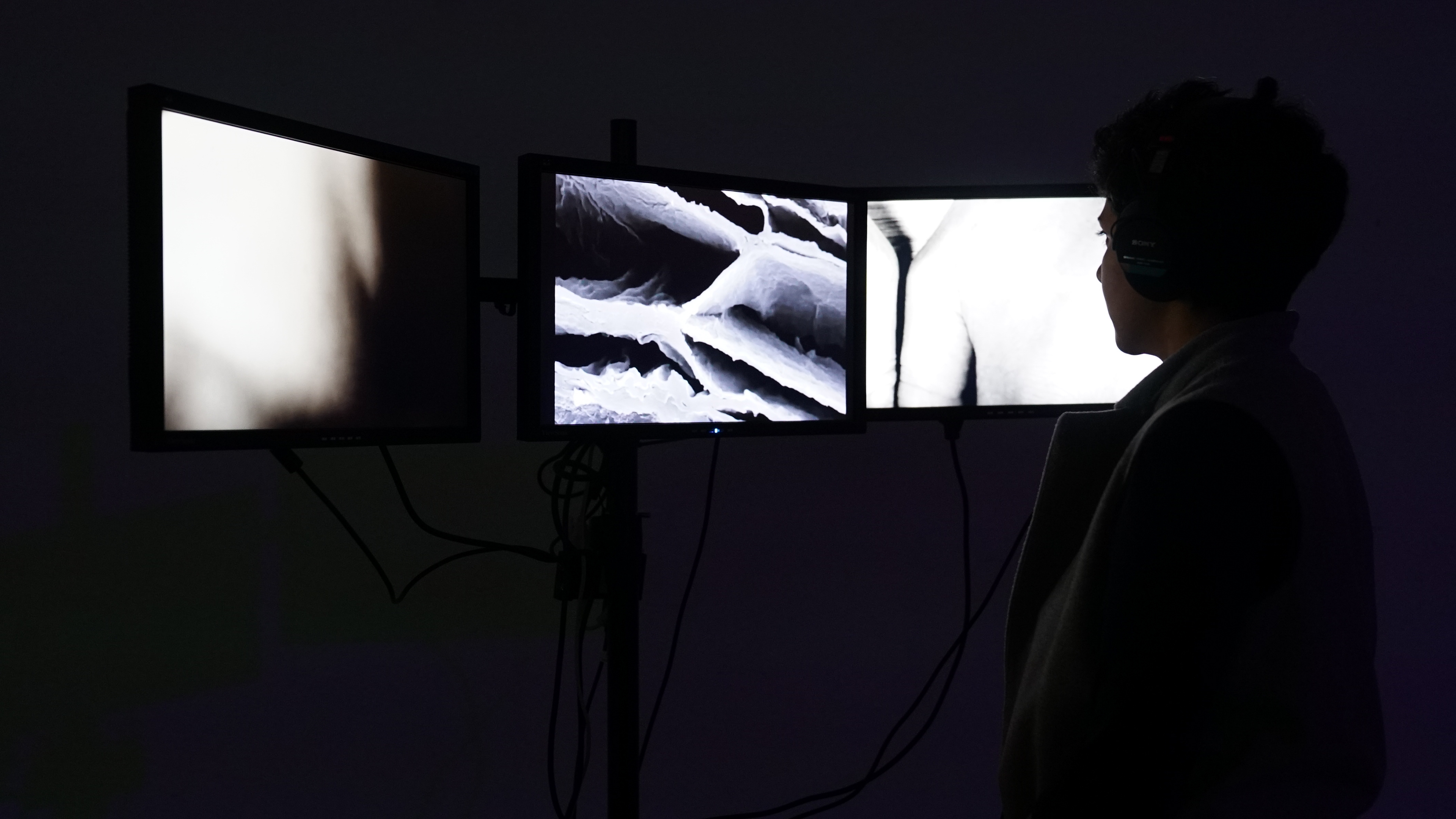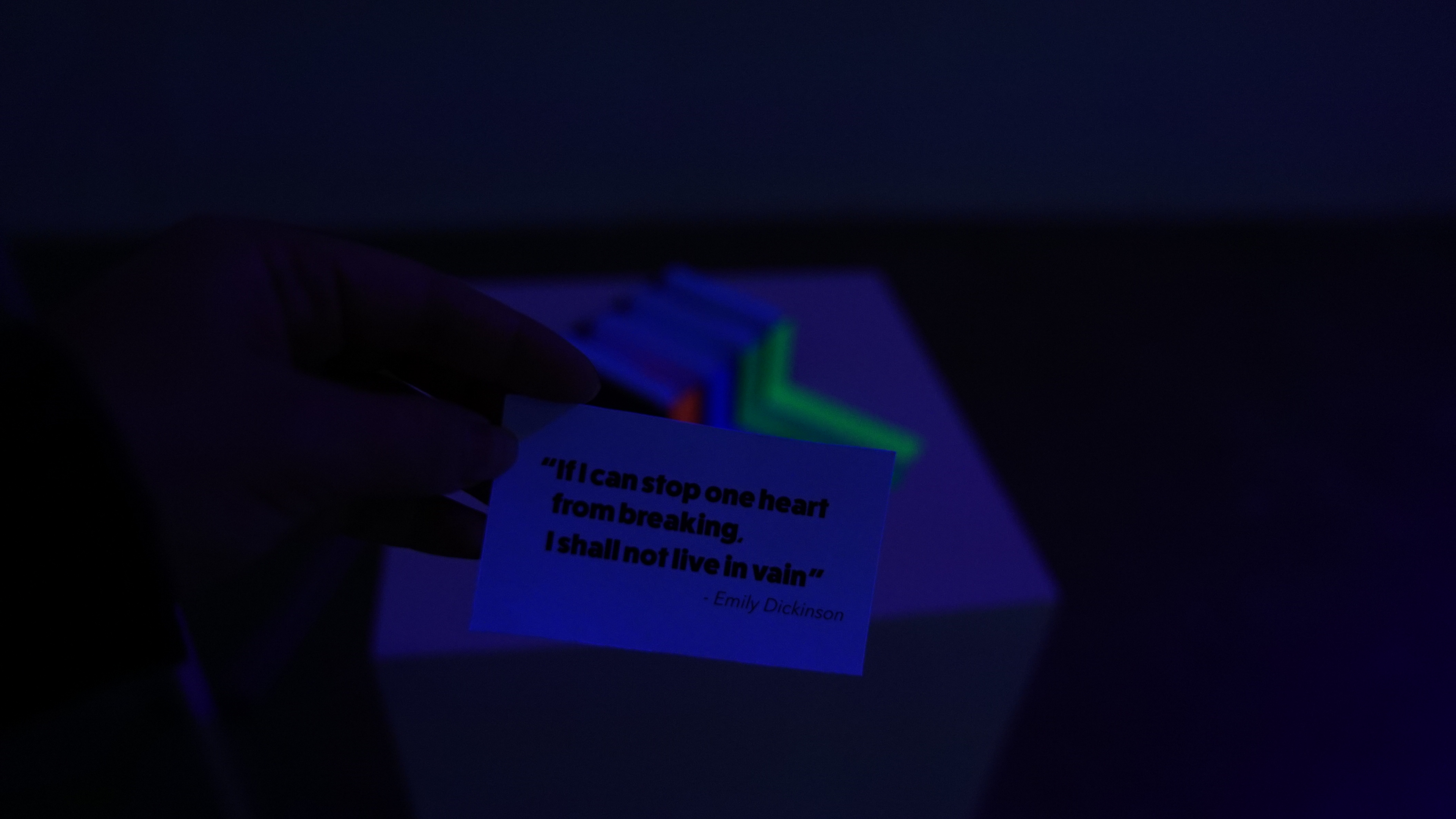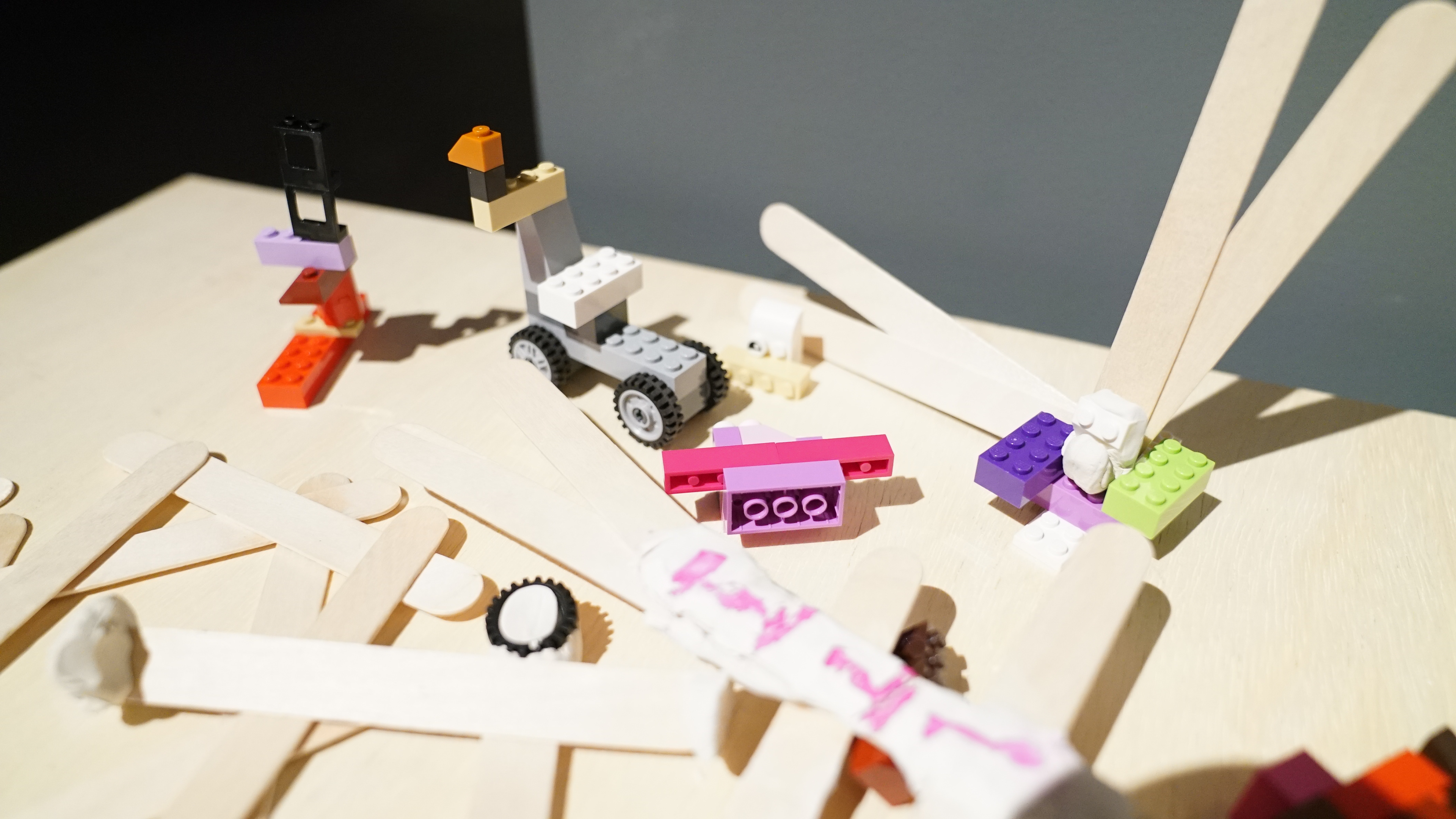 Multi-Pedia : Temple University 2018 MA Media Arts Videography Exhibition
Dec 6-9, 2018 12-6pm
Closing reception Saturday Dec 9th 5-7pm (Performance at 6pm)
Icebox Project Space 1400 N American St. Philadelphia, PA 19122
"I am proud to announce the opening of ​Multi-Pedia​: Temple University 2018 MA Media Arts Videography Course Exhibition. The exhibition features the work of Prudence Anne Amsden, Jonathan Council, Max Angelo Groff, Mary Koszycki, Chris Stephens, Morgana Sugzdinis, and Kayla Watkins.
Throughout the course students have examined the development of video art, its progressive impact on other forms of art, and its ultimate evolution into "media" art: groups of content around specific themes such as ​Laws and Constraints, Worldmaking, Interactivity vs. Participatory, Materiality vs. Immateriality, Virtual Storytelling, and Performance vs. Performativity ​helped students with their very own concern of unpacking "what is it to be human in the digital age!?"
Max Angelo Groff is concerned with loss of humanity in relation to digital technology where Chris Stephens explores the multiplicity of realities in the the digital world and how perceptions can be shaped by immersing oneself in such distorted familiar and unfamiliar situations. Mary Koszycki's work depicts the repetitive nature of human processes by mixing footage that often alludes to ideas of macro and micro. Jonathan Council and Morgana Sugzdinis reimagine the methods of storytelling by centreing "play" as the mode of action. Council's work is a measure to one's humanity by offering and/or limiting control; By contrast, Sugzdinis challenges the creation of a natural resistance to discovery.
Prudence Anne Amsden expresses herself through movement or lack thereof. Juxtaposing inanimate objects and body movement through improvised expressive thought, manifest in her explorations of the everyday​. Kayla Watkins uses other expressive methods in storytelling, such as use of color or repetition and difference in order to address issues that impact black, brown, poor, and femme people.
Please join us at the closing reception or take a walk at the gallery on your own in celebration and appreciation of their efforts in exploring these important issues.​" ~Mina Zarfsaz
The Exhibition will be on view for the public from Dec 6th to 9th, 2018. The closing reception will be held on Saturday, Dec 9th 5-7pm with a performance by ​Prudence Anne Amsden​ at 6pm.
Gallery hours are Thursday – Saturday, 12 – 6pm.
For additional information please contact ​zarfsazmina@gmail.com
This course is part of the one-year, 30-credit master's program in mediaXarts: Cinema for New Technologies and Environments which aims to prepare students for professions in the creative design industries, interaction design for public organizations, and emergent cinematic art forms, including interactive cinema, projection design for performance and architecture, media installation, user experience design, design for mobile media, net art, and social media. The mediaXarts program trains artists who seek to challenge cinematic and arts conventions through narrative, non-narrative, and hybrid forms.
STUDENT BIOS AND STATEMENTS crafted for the class:
——————— Max Angelo Groff
Bio:
Max Groff is an autistic media artist born 1985, Norristown, Pennsylvania. His work explores the problems that exist between cultural humanism and the antihuman technocracy.
Statement:
By juxtaposing media both old and new, technology both current and obsolete, Max consciously embraces the absurdities of antihumanism. Through a somewhat paranoiac-critical process, he regains his Jungian soul to find that we are all — regardless of our gadgets — human. As a historically-minded media artist, Max embraces and incorporates media from decades and centuries past. Books — often old, forgotten books — serve as starting point for research and conceptual development. Max incorporates images and texts from books even when working in primarily digital formats. His love of books (bibliophilia) stems in part from the fact that he is autistic. The process of arranging books on the shelf is cathartic. For Max, autism is both a gift and a challenge.
Multi-Pedia projects:
These three works are united by the question, "at what point is humanity lost?" Technology is the dominant force reshaping our society as well as our consciousness. And yet, are we conscious of how technology is reshaping us? When cars dominate the street, and the street ceases to be a gathering place for people, humanity is lost. When print media is digitized, and the paper is trashed, humanity is lost. At the point our names no longer correlate to our faces, individuality is destroyed. At the most extreme levels, technology renders us anti-human. And yet, we are forever indebted to technology. The gadget is our new best friend, but we should never cease to question it.
Car Cult
2018, Video
This is the neighborhood in South Philly where my grandfather was born. My grandfather told me that there were virtually no cars on this street in his generation. Today those streets have undergone gentrification, and there are many shiny cars in what used to be a dangerous, working-class neighborhood. What was once a community of people now appears to be a community of cars.
The -D-e-a-t-h- Depth of Print
2018, Video
I scanned details from a book of Jakob Steinhardt woodcuts to evoke the impression of a foreign character set. The left channel features woodcuts and a woman to represent the humanity of print. The pixelation on the right channel represents the loss of cultural depth due to digitization. Pixelation becomes a form of necessary abstraction. Distortion was achieved by capturing video through a glass sphere.
Character Women (var3)
2018, Video and animation
Headshots of actresses from the days of yore are taken from the book ______. When the actress's names are Googled, their headshots are almost nowhere to be found amongst globs of data. On the internet, we are here today, gone tomorrow. What was there yesterday could be nonexistent.
——————— Morgana Sugzdinis
Bio:
Morgana Sugzdinis is a brazilian graphic artist exploring the colorful aspect of conditional human behavior through interactive play.
Statement:
Because the way people are conditioned, a natural resistance to discovery has been created. To be able to awaken to new experiences, one must enter a new world letting go of all old perceptions to allow their minds to discover new experiences so something can "emerge" from it. In my work I create a platform that allows people to act upon their natural tendencies.
Multi-Pedia projects:
In this interactive installation I am encouraging the spectators to open their memories and add to the canvas using bold colors, shapes and humor, in order to help creating a work that is conditioned on their thoughts and feelings.
I believe that the exposure to a colorful and inviting environment can break the walls of behavioral adaptations. My wish is for visitors to explore the path like children and to reorient perceptions to discover nostalgic feelings.
"Walk the path"
Part 1: Answering the question map
There will be a series of different questions guiding each person through the "question map". Each person with their unique life experience and condition, will be walking a different path.
Part 2: The conclusion
The question map will end at 4 different points, each one a popular metaphor, each metaphor a trait to be interpreted by each person.


——————— Mary Koszycki
Bio/Statement:
Mary Koszycki is a multimedia and digital artist currently living in Philadelphia. Her works' subject matters explore the interaction between human communication and current technology, and their overall presence in the world.
Multi-Pedia projects:
StEM is a triptych video installation, juxtaposing Scanning Electron Microscopy footage with drone footage of stretching landscapes and vast forests. The piece depicts a narrative of the process of moving nutrients from an unsafe to safe place within the forest- a process that works as an example for many processes present in nature. The piece shows relevance and familiarity between different micro and macro processes including the actions of humans. The viewer is given a sense of connection to the things around them and realizes that everything is linked.
——————— Prudence Anne Amsden
Bio:
Prudence is currently pursuing her MFA in Choreography at Temple. She is an interdisciplinary artist specifically interested in exploring dance, performance and multimedia art.
Statement:
Movement is expressive thought. Is that still true when the body is segmented or not physically present. Can objects move and express. What is expressive thought? Our bodies are full of expressive possibilities and I am interested in expanding those possibilities from the physical performance body, using dance improvisation, humor, performance and voice to a digital fragmented body and inanimate objects. I also  am interested in the intersection of the physical body and technology and how dancers and performers can expand their creative practice with the intervention of technology and mixed media.
Multi-Pedia projects:
The works that are being presented at "Multi-Pedia" are a result of my experimentation of technology, performance with the physical and digital body.  I am mainly using chairs as the inanimate objects to experiment with because I am interested in using everyday objects as materials. Chairs were always around when I first started experimenting with the question "can objects dance" from there they became a the area of focus for both my sculpture, and in my performance; where I explore the possibilities of movement with a rolling chair as well as creating a relationship with my body and the chair.
I'm Fine (15 mins)
This performance explores the possibilities of improvisation using voice and movement, as well as expressing my inner world in a way that is accessible even if a bit exaggerated
Choreographed and Performed by, Prudence Anne Amsden
Film Edited by, Prudence Anne Amsden and Mary Koszycki
Music Edited by, Prudence Anne Amsden
Chairography (Working Title)
This piece is the final result of looking at the relationship of movement with an intimate object.
Film and Projection by, Prudence Anne Amsden
Materials: Folding Chairs and Zipties
Pas De Deux (1min)
My response to the question "Can objects dance?"
Stop Motion Film by, Prudence Anne Amsden
Materials: Folding Chairs
Music: Claire De Lune by Claude Debussy
——————— Jonathan Council
Bio:
Jonathan Council is an artist who strives to push conventions of visual storytelling to reinvent or reimagine the practicality of its various modes, techniques and mediums. He is interested in how people think and behave, and the constant evolution of our abilities to entertain, educate and amaze each other, where his craft is his attempt to explore humanity.
Statement:
Art has allowed me to explore the nature of what stimulus, provokes and infatuates us as
human beings. The forms we use, the stories we tell, and the activities we engage in shape how we think and are indicative of how we exist and who we are as living beings. The processes we go through seem to direct how we understand human behavior and psychology. Engagement with art is a fundamental way we see how human beings want to communicate with themselves, and to the world. This interactivity, to some degree, gives a role to human existence in context to the world's various physical and psychological structures. The "role" is key to the understanding and categorization of a process. Everything plays some role in every interaction and procedure. We tend to assign someone, or something control over a situation, a cause and effect, or a perpetrator and victim. There is an overall sense of beginning and end, with the end having been controlled by how the beginning was formed. If we look at control as a force that cycles from something being an actor and a reactor, then we can see the possibility for the enforcer to be influenced by the very thing it wants to control.   As an artist I want to explore the balance and imbalance of the very notion of the active and passive human. I seek to blur the boundaries between spectator and performer, gamer and device, and most importantly redefine control. The world does not simply enhance itself with answers alone, but with smarter questions. Breaking down our understanding of control may affect how we create art, and hopefully will change how we engage with other people.
Multi-Pedia projects:
I want my installation to defamiliarize people's grasp of the participant and spectator by creating a 3-room art experiment, in which 3 three rooms have a simple prompt of either "draw, write, or build". The rooms will have varying information that will be influencing everyone's individual experience. Every experience will be different, and when you leave you will have left something behind.The goal is to collect and display the projects of all 3 rooms at the end of the day. Their art will be influenced simultaneously by each other and by the prompt and objects in their room. Since there will be live feeds, they will not know if they are leading or following. Overall, the installation should showcase the power of neutral influencing, with people's natural creative tendencies and instincts either leading, or being led into creating original art. It will be an unintentional collaboration between exhibitors, who will both be audience and participants. The collective look of all the artwork displayed will be the art piece itself.
Craft as Collaboration
3 room installation explores control.  What happens when control is put in the hands of the spectator? What happens when we are the creators and the observers, audience members and performers all at the same time?
Close Your Eyes
Two channel visual experience, where what you see leads you down a different path from what you hear. These experiments deal with defiance and the false understanding of control.
——————— Kayla Watkins
Bio:
Kayla Watkins is a filmmaker from Baltimore with a focus in media education and documentary cinematography. She has been filming since 2009 covering issues that impact black, brown, poor, and femme people.
Statement:
Autonomous visual representation is one of the key elements of achieving liberation in a world which revolves around the consumption of media. In my work I am visualizing the feeling of being watched, consumed, and repackaged as a Black femme human for others to evaluate without consideration of our inner motivations by filming the same action repeatedly and screening it simultaneously.
Multi-Pedia projects:
Monitor Report 001 is a video essay styled as an anthropological report from an extraterrestrial sent to Earth to evaluate crimes against humanity from the lens of a galaxy that seeks to exist without war. It is a video triptych shot from several voyeuristic perspectives. This piece documents a Black woman in the seemingly innocuous routine of prepping for the day and leaving.
——————— Chris Stephens
Bio:
Christopher Stephens: Age 26 from Cheltenham PA. Graduate of Albright College with a BA in Communications. Chris works as an Associate Producer for Power Home Remodeling Group, and also works for the Philadelphia Eagles as part of the Digital Gameday Staff. Chris is approaching his final semester at Temple in the MediaXarts program at Temple.  
Statement:
In a digital world, one's own reality becomes distorted  when immersing themselves into someone else's reality.
In a world of digital realities, one can experience someone else's truth by experiencing their reality. In an immersive world, people can feel what you want them to feel, by making them see and hear, and someday soon, touch what you want them to. By doing so, you are taking them out of the world they know, and shaping their current reality with the one you place them in.  
Multi-Pedia projects:
So many problems in this world come from the lack of understanding of one another's differences.  If people could feel what it's like to live in the world of an individual who we judge or misunderstand, this world would be better place for all of us.  This work should challenge one's formal way of thinking about things, and introduce them to a reality that they were ignorant to prior. This challenge with trying to shape perception through a digital reality is the ability to truly separate them from the world they know and place them into a reality that feels so real, that the emotions they feel through this experience are unlike anything they could ever imagine in their own world.  
Blak AmeriKan
VR Animation